ARTICLE BY CARY SILVER
" Rotary's First President from Africa is committed to family and peace"

Family is everything to Jonathan Babatunde Majiyagbe. Whether he's speaking about his wife, fellow Rotarians, or strangers in need, all are members of the human family. IT is a concept that has been instilled in him from the time he has a youngster in the West African nation of Nigeria.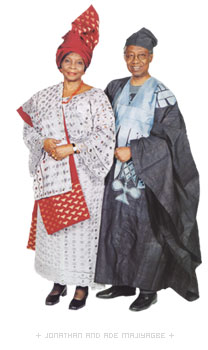 "The concept of Family is very important to me", explains Majiyagbe, an attorney from the city of Kano. "We have strong family ties and an extended family system in Africa. A caring attitude is embedded in our souls. You don't have to be invited to come to our home – the door is always open."
Majiyagbe's door has always been open to welcome relatives, Rotarians and the disadvantaged. Abdulrahman Tunji Funsho, a longtime friend and fellow member of the Rotary Club of Kano, has known Majiyagbe for nearly 30 years. He says that Majiyagbe often reaches out to those whose misfortunes isolate them from society. "Jonathan would see someone who was disabled, write down his name, and arrange for a prosthesis from a local orthopedic hospital. Or he would find shelter for a homeless person he ran into on the street. He believes in providing the necessary resources that can help a person make a new life for himself.
As the principal counsel of J.B. Majiyagbe & Company, Majiyagbe showed similar consideration when it came to serving clients. "Jonathan would encourage people to negotiate and resolve disputes peacefully, rather than go to court. Ligitation was a last resort," says Funsho. "Of course," he adds with a laugh, "I did wonder how he stayed in business."
Yet Majiyagbe's way of doing business ultimately made him one of the most popular and respected lawyers in Nigeria. "He was honest and fair, says Funsho. "People knew he cared and that he have their interests at heart."
Indeed, it was Majiyagbe's tireless dedication and innate leadership ability that earned him and innate leadership ability that earned him the respect of fellow Rotarians. "Within 24 hours of my nomination, I called Jonathan to ask if he would serve as my presidential aide says 1999-2000 RI President Carlo Ravizza of Italy. "I knew he was very committed and that he would be an asset during my year as president."
Ravizza describes Majiyagbe as "a deep analytical thinker with a great love for people/" He says: "He's willing to listen; he's willing to compromise. Most important, he stands for what he believe in." At the 2002 Ri Convention in Barcelona, Ravizza introduced Rotary's first president-elect from Africa as "a man of great integrity".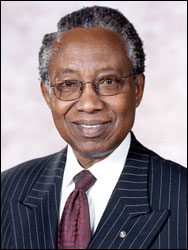 One Rotarian who has a unique perspective on Majiyagbe's personality and leadership style is 1998-99 RI President James Lacy of the Untied States. In fact, the Rotary careers of these two men have paralleled each other from the beginning. Both served as district governors in 1980-81, members of the RI Board of Directors in 1988-90, and trustees of The Rotary Foundation in 1993-96. "Jon and I have worked together in so many ways over the years," say Lacy. "ut we never could have anticipated that we would both become RI Presidents."
Lacy feels that Majiyagbe brings a fresh perspective to the top office. "He is the right president at the right time," says Lacy. "I can't think of anyone better suited for this year."
Lacy, who is now chairman of The Rotary Foundation Trustees, describes Majiyagbe as compassionate and down-to-earth. "Jonathan is one of those people who is truly interested in what you have to say," he says. "After you talk with him for 30 minutes, you feel as if you've known him for 10 years. He's genuine."
Despite the accolades, Jonathan Majiyagbe is an unassuming man with deep family roots and a strong faith. He was born in Lagos in 1934, the only boy and youngest sibling. He grew up with four sisters which may account for his unwavering belief that women should be represented in Rotary. In fact, he speaks with great pride of his suppose of the landmark motion to allow Rotary clubs to admit women at the 1989 Council on Legislation."Women have a vital contribution to make to Rotary, whether they're spouses or members," he says. "They bring an infusion of energy and nurturing quality to our organization."
The importance of family is a theme that resonates throughout Majiyagbe's life. He met his wife, Adeola "Ade" Williams, when he was a 24-year-old bank clerk in Nigeria. But it wasn't until a serendipitous meeting in England several years later that they connected and eventually married in May 1996. The couple has one son, John, who is also a lawyer.
Majiyagbe refers to Ade as his "pillar of suppose and partner in service." She accompanies him on his Rotary travels and participates in meetings and projects. "You cannot talk about Jon's success without giving credit to Ade," says Funsho.
Ade is very active in Inner Wheel, a separate service organization for Rotarian wives and daughters. She served as the first chair of the Inner Wheel movement in Nigeria and was elected to Inner Wheel's international board of directors.
Both Jonathan and Ade are devoted members of the Anglican Church, and he served as chancellor of the Anglican Diocese of Kano. "My Christian values and the concept of the good Samaritan are reflected in my Rotary work," he says. "Service to others is an opportunity for me to give thanks to God and give back to the community."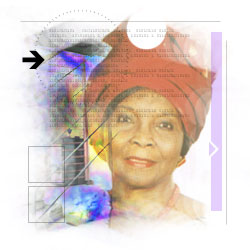 Majiyagbe earned a law degree from the University of London after being called to the English Bar in 1964. His firm now has offices in Kano and Abuja, Nigeria's capital. He first learned about Rotary after seeing a copy of The Rotarian in the reception area of a colleague's office. "I asked about Rotary, but he put me off," recalls Majiyagbe. "Perhaps at that time he was worried about having another lawyer in the club."
In 1967, a businessman named Philip Gaydou invited Majiyagbe to join the Rotary Club of Kano. The young lawyer was instantly drawn to Rotary's mission and its ideals of service. "There is so much suffering in Africa," he says. "I saw people dying needlessly from disease, poverty, and hunger. Rotary was a way to help."
Despite a demanding work schedule, Majiyagbe made it a priority to attend club meetings and participate in hands-on service projects. "Jonathan would work all day, then fly to Kano to Lagos," says Funsho. "He would drive straight from the airport to the club meeting. The rest of us, therefore, had no excuse to miss a meeting."
Majiyagbe has always taken his duty seriously as a Rotarian. "Nigeria is a country of overwhelming needs and limited resources," he says. "I feel a great responsibility to do all that I can to help." When he became governor of District 910 (now District 9120), he faced the daunting prospect of traveling to 14 West African countries, including several where French is the dominant language. "I took a crash course in French to try to prepare," he recalls. "I don't know how well I spoke the language, but people respond in a more positive way when you at least try."
Majiyagbe especially enjoys Rotary's cross-cultural fellowship opportunities and has attended 28 consecutive international conventions since 1975. He will preside this Rotary year over the RI Convention in Osaka, Japan, which organizers predict will be one of the largest in Rotary's history.
The 2003-04 RI theme, Lend a Hand, complements Majiyagbe's philosophy of assisting those who are less fortunate "I feel that the image of helping hands symbolizes Rotary's commitment to help others in need. It is an expression of caring that translates across all cultures."

Majiyagbe has appointed a task force to address each of his four emphases for the 2003-04 year: the family of Rotary, health, alleviating poverty, and promoting literacy and education. "I feel one of the most important priorities is education," he says. "If you educate people, they can escape the cycle of poverty."
The president also encourages each club to form a family of Rotary Committee to promote an atmosphere of warmth and caring. "We need to involve all members of our family in Rotary service," he says. "And if a club member dies, don't forget about his or her spouse and children."
Majiyagbe is also an avid supporter of the Rotary Centers for International Studies in peace and complete resolution. The first calls of 70 scholars will graduate during his year as president. "The current conflicts and threat of terrorism makes his program more relevant than ever," says Majiyagbe. "Rotary World Peace Scholars will provide a reservoir of men and women who have an expertise in diplomacy and promoting pace. Rotary has no political ties and represents all traces and cultures, so we have credibility with other international groups."
Majiyagbe is painfully aware of the challenges facing his own continent of Africa. Many of Rotary's Programs directly address problems that are prevalent in countries like Nigeria, including Polio, HIV/AIDS, poverty, and ethnic and religious conflict."Given my background, I feel even more responsibility to increase membership and encourage Rotarians to take action," he says.
PolioPLus will be one of the president's highest priorities this year. Polio is still endemic in Nigeria, one of only seven countries reporting polio cases. "I will feel truly honored to be a part of history when we eradicate polio," says Majiyagbe."There is no reason for ant child to suffer from a disease that is completely preventable."
Majiyagbe has dedicated both his time and resources to PolioPlus, serving as a member of the International PolioPLus Committee. He was instrumental in working with international health agencies to secure government funding of US$15 million for polio eradication in Nigeria.
Tunji Funsho says that Nigerian Rotarians are proud of Majiyagbe's election as RI's first African president. "This will be a big boost to Rotary in Nigeria," he says. "It proves that Rotary is an international organization of equal people and tat selecting a leader is not based on a particular race or religion." In addition, many Nigerians are Muslim, that historically has been reticent to join Rotary because of its image as an American organization. "I bring a certain perspective that I hope will benefit Rotary," says Majiyagbe with characteristic modesty. "But I am here to serve all the countries of Rotary, not just one region."
Majiyagbe hopes that his presidency will make a positive impact not only on the organization, but also on those it was intended to serve. "We need to "LEND A HAND to the world's disadvantaged people,": he says. "Rotary comprises 1.2 million people who believe that suffering does not have to be part of the human condition."
Majiyagbe's personal mission of service has not changed over the years. Although his life's path has taken many turns, he remain true to his original vision.
Funsho vividly recalls participating on his first Rotary club project– the construction of a vocational training center for homeless women – as a new member of the Kano club in 1985.
"When I arrived at the project, I was amazed to see Jonathan – this very prominent lawyer – standing on a ladder with a hammer in his hand. He was helping to build the center's roof. This made quite an impression on me, because people of Jonathan's stature usually don't perform manual labor in Nigeria. It really showed his commitment to Rotary."
Even then, Jonathan Majiyagbe was ready to LEND AHAND. "We all start as strangers," he explains."But if we come together in service, we are all members of the same family – the family of Rotary."
To our readers: Just before this issue went to press, we received the sad news that Ade Majiyagbe, wife of RI President Jonathan B. Majiyagbe, died on 6 June in Leeds, England. "Together with her husband, Ade Majiyagbe served and represented Rotary with devotion and faith," said Gay Malone, her aide during the 2002-03 Rotary Year. Please consider this month's special section as not only an introduction to the new RI President and his plans for the upcoming year, but also a salute to the entire Majiyagbe family. A tribute to Mrs. Majiyagbe will appear in an upcoming issues of The Rotarian.